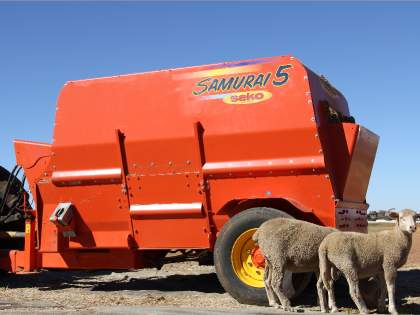 About
Seko SAMUARAI 5 – 450 & 500 series.
This comprehensive range caters for both the small and large operators and its success in South Africa can be attributed to its reliability and all round capacity to work any product or by-product found on farms economically and efficiently. In any of the models the mix will be ready to be fed within 20-40 minutes (depending on the length of material required) from loading of the first bale, regardless of the material used. It can also be used in other applications like preparing feed mixes for sheep and ostriches (The longer the chopping cycle, the shorter the material of mix) and in doing so does away with costly hammer mill operation for primary break up of material. It has been stated that the Seko mixer has the lowest energy requirement to prepare a feed mix from bales compared to that of similar machines. This can directly be attributed to its unique cutting / mixing action that allows the material to be circulated towards the center of the machine resulting in a faster mixing process with a lower temperature as the outer walls are not used. As a norm the 450/70c (7m³) and 500/13c (13m³) series with 1.8m-discharge chute are imported as standard and the 'Sekotronic' weighing system fitted as optional equipment. Other models in the range would include those fitted with *Silage tillers, *Rear till-aging system and rear *Loading shovels.
* Available as special import to S.A. (Please enquire)
Features:
• 5 to 30m³ models available.
• Self propelled, stationery and trailed models.
• Lowest power requirement per m³
• Comprehensive range available.
• Patented twin-auger chopping mixing system.
• Handles complete round or square bales.